Jersey Shore season 2 is starting up soon so I figured it would only be right to talk a little about it and how I am going to spread the Jersey Shore Luv!
First off I was one of them people like "why you watching that show & I would never watch it" but then one day I got hooked and I never looked back since.I am a Jersey Shore Junkie!
My Top Ten Reasons I am watching Jersey Shore Season 2!
1. I have to 100% rep because Pauly D. is from Rhode Island where I am from and he lives like 5 minutes away from me & everyone in my town like knows him. For instance he actually used to go shopping at the same shops where my sister does & used to chat & one night he was djing at a club she was bar-tending at & he asked for her number but she turned him down because he was not a good dj lmao
2.Snooki is the funniest person on television right now,and she doesn't care what people think of, she will act like a nut and have a blast.She would be a great person to party with!
3.OMFG! SNOOKI & VINNY HOOKUP! THATS CRAZY!
4.Angela returns to this season,which is weird bc shes a B****. lol
5.I wanna see if Ronnie & Sammy get back together and stay again for once.
6.Vinny totally reminds me of my boyfriend!
7.The whole cast reminds me of the city I was raised and live in.
8.There is going to be so much more hookups,fights and funny moments! Sammy & J-wow get in a fight.The SITUATION will probably be an idiot like always and fight with everyone again!
9.Everyone in my state is having a Jersey Shore premiere night and dress up Jersey Shore style! haha
10.They dont have the DUCK PHONE ANYMORE! so how they will know if any gorillas or crazy stalker girls be calling them.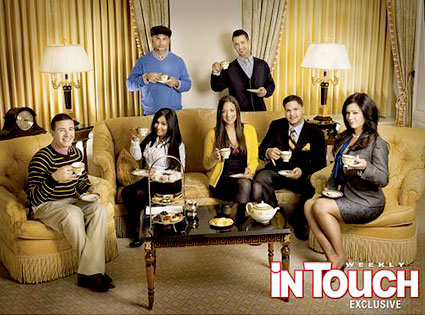 To celebrate Jersey Shore Phenomenon for Halloween I am going to be SNOOKI, I am going to have the poof(even though she retired it),be orange ,wear crazy club clothes and heels and my boyfriend is going to be THE SITUATION OR PAULY D & I am going to paint crazy abs on him and Gotti his hair up and we will FIST PUMP ALL NIGHT!